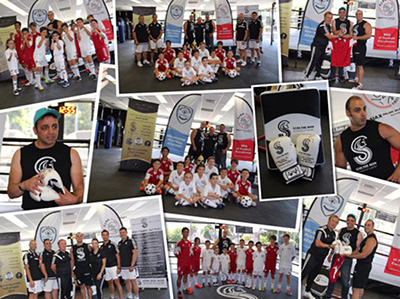 Melbourne Football Academy proudly announcing the partnership with Stan The Man Fitness Academy
The Melbourne Football Academy is delighted to be working in partnership with Sports Australia Hall of Fame Champion Stan "The Man" Longinidis and his brother George "The Iron Lion" Longinidis, founders of Stan The Man Fitness Academy.
This means the students from the MFA of Football Excellence, the elite branch of Melbourne Football Academy, will train with Stan The Man Fitness Academy providing expertise in all areas of Strength and Conditioning preparation.
The goal of MFA and STMFA is to create and form talented young players into elite and high level professional football players. Teaching the "Power of Mindset" and how players can really boost their performance and achieve excellence in the game of Football is a key component behind Stan The Man Fitness Academy's "Player development Kickboxing Circuit' programs customised for specific player needs of all levels.
Stan The Man Longinidis (Professional Keynote Motivational Speaker) is a retired eight time World Heavyweight Kickboxer who is one of the worlds most recognised champions from his sporting industry. Stan continues to strive in helping to grow young players through genuine partnerships so they may acheive excellence on and off the field by offering superior training facilities and proven "Player Development Kickboxing Circuits" that are delivered with Stan's brother (Also a Former World Kickboxing Champion) George "The Iron Lion" longinidis.
The Player Development Kickboxing Circuits are all developed in-house so that all content and strategies come straight from Stan and George. The circuits are one of several programs that are offered under the Stan The Man umbrella.
The discipline learnt through the art of "Kickboxing" is a remarkable advantage for MFA of Football Excellence students.
The students are taken through strategic performance development programs. Some of the benefits of the "Player Kickboxing" programs is to further advance overall player game focus and awareness, endurance, coping under pressure, flexibility, strength, core strengthening, speed, mindset conditioning, character building and comradery.
STMFA prides itself on achieving excellence and to be a part of growing young players that will excel and reach greatness as professional football players.
Partnering with Stan The Man Fitness Academy is an obvious choice for Melbourne Football Academy, working alongside World Champions is another leap forward with respect to providing quality education for MFA students.
For further information on Stan The Man Fitness Academy go to www.stanthemanfa.com.au or phone 8838 2171