Chris Stefanos
Fitness & Conditioning Head Trainer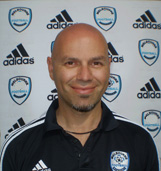 Accreditations
FFA Coaching Accreditation
ICA Fitness & Conditioning qualification
Ajax Online Coaching Workshop
VIC Government Working with Children Check
Sports Medicine First Aid

Chris Stefanos B.Pharm joins our team as a specialist training and fitness coach, focusing on the development of strength and speed for youth in sport.

Qualified as a pharmacist, Chris' professional career has given him an intricate understanding of the science of prevention of injury through training and recovery. Having also completed his Junior Coaching License and Sports Medicine First Aid, Chris is able, through specialised programs tailored for young football players, to improve strength and speed.

Utilising core strength combined with pliometric and isometric exercises, young developing bodies gain fitness and skills more rapidly than with traditional training methods, and have fun doing so.