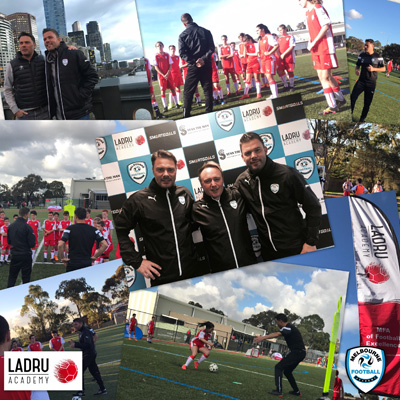 Ladru Academy visits MFA
Melbourne Football Academy made history this year when two coaches from Ladru Academy, Sander de Goede and David Zonneveld, from Amsterdam Netherlands visited MFA in Melbourne for a one week long training camp.
Although this was our partner's first visit to Melbourne, Ladru Academy was impressed by the positivity of MFA's passionate football members; and this winter's visit formed just one element of a programme of activity - on and off the pitch - that brought our Dutch partners closer to Melbourne Football Academy members.
The Academy brought out staff from Ladru Academy (Amsterdam) to carry out a football camp with the MFA of Football Excellence students, providing a great opportunity for our young players to learn advanced footballing skills from highly experienced coaches whom have worked alongside the current AFC Ajax Amsterdam Manager, Marcel Keizer. But most of all, the experience also widened student's horizons, by appreciating each other's culture and respecting diversity.
For the last five years, the Melbourne Football Academy has collaborated with Ajaxonline Academy and the Ladru Academy to share the benefits of professional football training with MFA. Moreover, the Academy and it's partners have gradually enlarged the focus, from skills training to all-round development of young people focusing on building their physical, mental and social capabilities. David Zonneveld pointed out that football is also a wonderful way to bring people together - opening hearts and minds across cultures and uniting people with the same passion for football.
"We last visited Amsterdam in 2016 but this was Ladru academy's very first visit to Melbourne and it's fantastic that it ties into MFA's and Ladru Academy's 5th anniversary as official partners," commented Chris Theodorou, MFA's Managing Director: "This was an important visit for Melbourne Football Academy as it is part of a wider community engagement programme that we are currently working on."