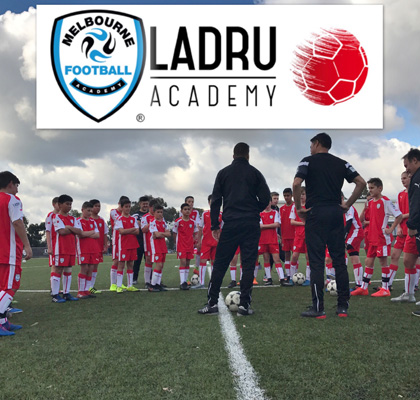 MFA of Football Excellence Trials
MFA of Football Excellence Trials will be held in November 2020. Students that are selected for MFA of Football Excellence will be educated the "Dutch way" (this includes high performance training methods, a complete training tracking system and learning track) to improve MFA talented students like the world famous AFC Ajax Youth Academy (Johan Cruijff, Marco Van Basten, Dennis Bergkamp, Frank De Boer, John Heitinga, Patrick Kluivert, Frank Rijkaard, Wesley Sneijder, Rafael van der Vaart and many more)
The MFA of Football Excellence is formed to provide more opportunities for the talented players of MFA to be educated in a unique style. Our mission is to deliver the contents and methodology of the Dutch system to develop football skills, as well as build relationships and social foundations that will help MFA talented students in the game of football and throughout life. While MFA talented students strive to compete at the highest levels of competition. MFA believe that an early commitment to talented students establishes a solid technical and mental foundation for which to continue building upon at MFA and beyond. MFA intend to accomplish this mission with experienced technical staff and a uniquely diverse pool of trainers that together represent the most effective and comprehensive educational football program.
"Both MFA and SoccerPLAY (formely known Ajax Online Academy) acknowledge the importance of innovation. We have a lot to offer one another in this respect, which is why we have joined forces. The collaboration offers us direct access to a wealth of knowledge and experience, such as clever training systems, which we can use to further professionalize MFA training and development courses. By offering this kind of Football Education to our students, we distinguish ourselves. Not only in Melbourne, but internationally as well" says Chris Theodorou MFA Director.
AGE
Registrations from the ages 7 and up will be considered, with exceptions at the discretion of MFA of Football Excellence Technical Director .
ASSESSMENT & EVALUATION
Identification & assessment of suitable participants for this program is ongoing.
MFA students will be considered into the program. External players not currently registered with MFA must register their interest into the program to be considered.
MFA students and external players who are trialled will be evaluated on Technique, Insight, Personality and Speed as well as motivation and the students desire to participate at a level that is more challenging.
All participants must go through an assessment before entry to MFA of Football Excellence
To register your interest please contact info@melbournefootballacademy.com.au or Ring 1300 MFA(632) 000