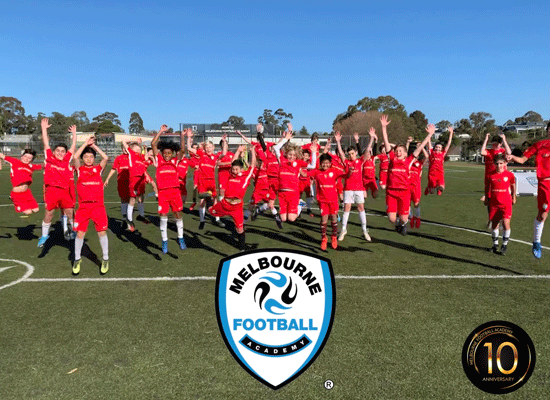 MFA Classes Re-commence 2021
Dear MFA members,
The Victorian Government has announced that restrictions across the State will begin to ease as we reach 70% target of the Victorian population 16+ years old fully vaccinated.
This is GREAT news, as it means we are a step closer to getting back on the pitch.
Below explains our approach to recommencing classes.
Term 4 Classes - Monday 25th October:
Taking into account Victoria's Roadmap and guidelines associated with this target for recommencing Physical Recreation & Sport and Community Sport, we have made the decision to commence Term 4 Melbourne Football Academy training classes from Monday 25th October.
Term 4 will be a 7 week term ending Saturday 11th December.
Taking advantage of Daylight Savings Time, this term will follow a new class timetable for the following weekday classes:
Mondays, Wednesdays, Fridays
-Under 10s (6yrs-9yrs) : 4.45pm - 5.45pm
-Under 16s (10yrs-15yrs) : 5.00pm - 6.00pm
Tuesdays
-Under 11s (6yrs-10yrs) : 4.30pm - 5.30pm
NOTE:
Saturday classes will run their usual times. There is no change to Saturday's class times.
VACCINATION PROTOCOLS
Although we are excited to be back to training, we must be mindful of the current environment and ensure we adhere to health mandates, particularly with respect to vaccination status.
We understand vaccination is a personal choice and we fully respect one's views to this.
However, to ensure we operate in a safe environment for all, we will be following the advice from DHHS and includes:
-all eligible people aged 16+ years old must be fully vaccinated to participate in Physical Recreation & Sport and Community Sport; and
-this vaccination status will apply to all eligible people aged 16+ years old including coaches, students, parents, spectators and any other officials/members on site.
With this in mind, we will be implementing processes to confirm vaccination status where this mandate applies.
COVID SAFE PROTOCOLS
A reminder to all members of our Covid Safe protocols, in particular:
• Do not attend training if you are feeling unwell or have any symptoms.
• Face masks must be worn by anyone aged 12 years and over. You must carry a face mask with you at all times unless you have a lawful reason not to.
It is expected that the wearing of masks outdoors will be lifted once the State reaches 80% of eligible people 16+ years old fully vaccinated.
• Students do not need to wear a face mask whilst training, but must have a mask on when entering or leaving the academy/training field (applies to students of 12 years and over).
• Students and parents must Check In upon entry into the academy using the Service Victoria QR Code app regardless of the duration of the visit. QR codes are located on the fence near the entry gate of the training field.
QR Check In will also assist with validating vaccination status.
NOTE: Where vaccination status is not met, the parent, guardian and/or student will be kindly asked to leave the training facility.
• If the Student cannot Check In (ie. does not have a phone), a parent/guardian is required to Check In on the student's behalf.
• Students to sanitise hands at the sanitising station upon entry and exit of the training field.
If a parent/guardian chooses to stay during their child's session, please be mindful of the Public gatherings limits.
We appreciate everyone's understanding and cooperation of these measures to ensure we do our bit to maintain a safe environment for all.
Should anyone have any queries or concerns please email to info@melbournefootballacademy.com.au
We would also like to thank all for your continued support over these challenging times, and hope that everyone is safe and well.
Kindest Regards
Melbourne Football Academy Team