Kritsanachai Thakhamfu (Pik)
Technical Trainer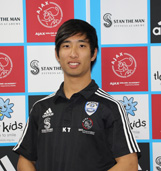 Accreditations
FFA Coaching Accreditation
Accredited Coach ASC at Australian Sports Commission
PBTR - Child Protection
VIC Government Working with Children Check
Having served his coaching apprenticeship under the guidance of MFA's technical director for a number of years, Pik has earned his Coaching status through hard work and the passion to keep striving for excellence as an individual.
Pik has had a number of School soccer and Futsal coaching positions over the last few years with great success. Pik has played for a number of Victorian State League teams and still plays in the State League 1 Competition. He has represented Victoria in the Futsal Team nationals as well as winning the State championship.
Pik has recently won the prestigious award "Pierre de coubertin award" from the Victorian Olympic Council for the Most Outstanding Digital Peice about Sport in 2016.