Nick Houssos
Coordinator (MFA of Football Excellence)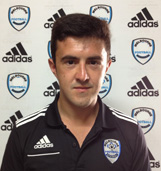 Accreditations
AFC Coaching Accreditation
VIC Government Working with Children Check
Ajax Online Academy Coaching Workshop

Nick currently plays football in the Victorian State League 2. A potential playing injury back in 2009 almost ended his playing career. In the hiatus he took from playing, Nick found a passion for coaching young players and pursued a coaching career.

Nick has the drive to succeed, by doing this he has an ability to instil these values in his students. Nick has obtained a number of coaching licences and as a result has coached between the ages of 4 to 18 years of age.

Nick is a real student of the game, wether it be supporting the professional leagues or at local level. Nick will constantly adapt his coaching techniques to adapt to the rigours of the the modern game, always educating himself to new training methods and learning how to develop young players. He now devotes a large portion of his life educating young aspiring footballers the game, as well as honing his own skills as a footballer.